The Diets That Time Forgot Reality Show
The Diets That Time Forgot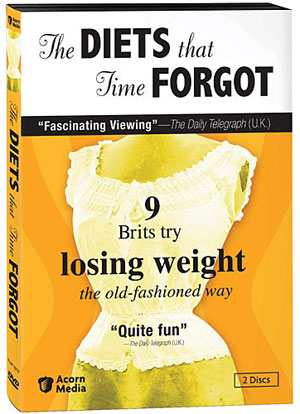 A hundred years ago, women's waists were 10 inches smaller, and the average man was 20 pounds lighter. Most people died of infectious diseases such as scarlet fever and cholera. But today, self-inflicted deaths such as heart disease caused by obesity are to blame. What tricks did our ancestors know that we've forgotten about? Historian Sir Roy Strong set out to find out with nine overweight volunteers. In the British reality show The Diets That Time Forgot, the participants were split into three groups, with each team following a different diet and fitness regime from the past.
Victorian Diet known as the Banting Diet (1860s): a diet of mostly meat and low in carbs, strict portion sizes, no beer, no sugary foods, similar to the Atkins Diet
Edwardian diet known as the Chew Chew Diet (from 100 years ago): allowed to eat whatever they want but must chew each bite 32 times. Whatever food didn't slide down the throat when the participant tilted their head back had to be spit out.
1920s diet known as the Lulu Diet (from 80 years ago): calorie-controlled diet consisting of mostly fruits and veggies, only 1,200 calories a day
The nine participants moved into a magnificent Victorian country home for 24 days and wore clothes from the period of the diet they followed, including waist-cinching corsets and thigh-squeezing girdles. Aside from their strict diets, they also underwent bizarre fitness plans that included posture lessons, ice cold baths, and military drills.
Did these diets from the past work? You can find out by watching the six-episode series yourself. To see a video clip of the show, read more.