Difference Between Soluble and Insoluble Fiber
Fiber: Soluble vs. Insoluble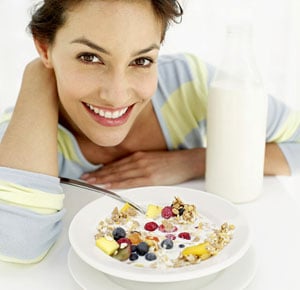 Women should aim to get between 25 and 30 grams of fiber a day. It keeps your digestive system happy and also helps prevent breast cancer. If you have high cholesterol, getting your fill of fiber has also been shown to lower the LDL (bad) cholesterol levels in your blood. Is there anything fiber doesn't do?
We are all in agreement that fiber is good for us, but have you ever wondered if one fiber — soluble or insoluble — is healthier? To answer that question, you need to know the difference between the two. Soluble fiber binds with fatty acids and lengthens the time it takes for your stomach to empty, so sugar is released and absorbed more slowly. This helps regulate blood sugar levels, and also allows your body more time to absorb essential nutrients from your food. Insoluble fiber adds bulk to your stool, which is key to regularity. This type of fiber also controls and balances the pH levels in your intestines, which helps prevent colon cancer.
Each type of fiber benefits the body, but only you know which type your body needs more of. I'd say that if you have issues with constipation, aim to eat more insoluble fiber. If you're concerned with regulating your blood sugar levels, go for for soluble fiber. To learn which foods are good sources of each,
.
Soluble
Insoluble

Oats and oat bran
Rice, quinoa, and barley
Beans, lentils and peas
Fruits such as oranges, apples, pears, and berries
Veggies such as carrots, cucumbers, zucchini, and celery

Wheat and wheat bran
Veggies such as green beans, onions, broccoli, cabbage, and leafy greens
Skins from fruits and root vegetables
Seeds and nuts
Raisins and grapes