Different Fitness Level Than Your Friend? Here's What to Do
What to Do When Your Friend's Fitness Ability Is Stronger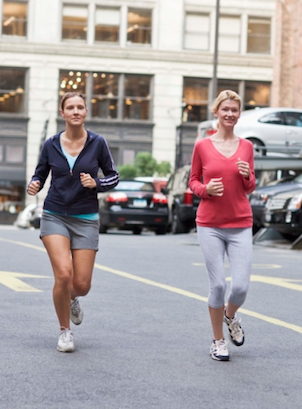 You love your friend and you love working out with her — problem is, she is stronger, faster, and in better shape than you. Whether you go jogging together, are planning to run your first marathon together, or attend the same exercise classes together, it can be challenging at times to keep up with a friend who is at an advanced fitness level, when you just aren't there quite yet.
Good news is that working out with a friend — especially one that you trust and respect — is a great way to keep you accountable for workout dates. She will also be a source of motivation when striving to achieve your fitness goals. Rather than get discouraged, here are some tips when you find yourself in this situation.
Choose a workout that's suitable for both levels. Rather than go to an advanced kickboxing class together, go to the intermediate class (if they offer one). When the teacher does the advanced moves and kicks, she can take part and do additional repetitions.
Keep reading for more tips.
Negotiate when going for runs. If your friend is able to run 10 miles effortlessly, but you're still struggling to finish three, try negotiating a five mile run with your friend so that you both get a good workout and you'll be pushing yourself to run an extra two miles!
Inspire each other. Maybe your friend is a marathon runner, but maybe you are a tennis playing pro and she'd love to learn how to play? Swap tips, tricks, and inspire each other to try new sports and fitness routines.
Don't overdo it. It's important to step outside of your workout comfort zone, but just be careful not to push yourself too much that you could risk injuring yourself. Your friend will understand.