Different Ways to Work Out When Running on a Track
6 Ways to Beat Boredom on the Track
Now that school is officially out, the track at your local middle or high school is probably available for your running pleasure. Whether running around a track is new to you or a place you've always worked out, the monotony can be very calming and meditative, but it can also be extremely boring. I know it's not the most exciting place to get your run on, but since it's also not the most popular place, you can try these creative ways to beat boredom without worrying about other people giving you strange looks.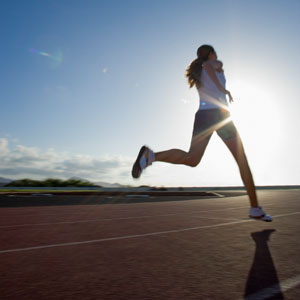 Do interval training without having to think by sprinting the straights and walking the curves.
Work on becoming a faster runner with speed training. Do this by timing yourself while running three laps. Each lap you run, try to beat your previous time.
Practice negative splits. Run a mile by running the first two laps at a slower than normal pace and then speed it up for the last two laps by running slightly faster than your normal pace.
Strength train on the move. Do walking forward lunges on the straights and walking side squats on the curves. Be sure to switch directions on the curves so you're leading with the left foot first and the right foot the second time around the curve.
Time your mile. See how fast you can run around the track four times and use this as a point of reference. Repeat every month or so, trying to shave off a few seconds every time.
Vary your steps. Since the terrain of a track is flat and predictable, you can safely practice varying your steps while running to prevent repetitive stress injuries. Here are some ideas: take baby steps, lengthen your stride and take giant steps, lift your knees high up to your chest with each step, zigzag, run sideways, or run backward.