Dijon Fish Fillet Recipe
Good Recipe, Fad Diet: Dijon Fish Fillets
The hCG diet recently became popular for its promise of quick weight loss. Participants follow a highly calorie-restrictive diet while also taking the pregnancy hormone hCG, which is said to encourage the body to release its fat stores to keep you nourished — leading to weight loss that can be as high as one pound a day. Safe? Not likely.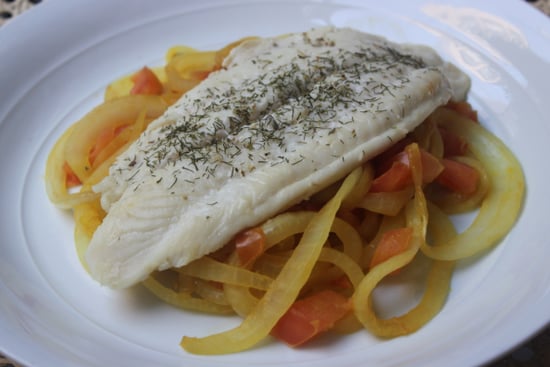 I tried this diet when I was in a crunch to squeeze into a bridesmaids dress, and while the results proved true, it's almost impossible (and extremely unhealthy) to maintain such a low calorie intake. Since the diet restricts all sugar, wheat, and dairy, the recipes I ate while on the hCG diet got very creative. Here is one of the most satisfying dishes I found that would be a tasty addition to any dinner. It's also a plus for those who are gluten-free: the onions look like pasta when mixed in with the mustard.
Learn how to make this quick and easy recipe after the break!
Good Recipe, Fad Diet: Dijon Fish Fillets
Adapted from Cooks
Ingredients
2 White Ruffy fish fillets
1 medium-size onion, sliced
1 medium-size tomato, chopped
2 tbsp dijon mustard
2 tbsp low sodium chicken broth
1 dash oregano or dill weed for seasoning
Directions
Heat the chicken broth in a pan, then add in the onion slices and dijon.
Allow onions to turn translucent before putting the fish fillets in the pan.
Cook each side about 5-10 minutes depending on thickness until cooked through.
Add chopped tomato to warm in the pan for a couple of minutes and top the fish off with oregano.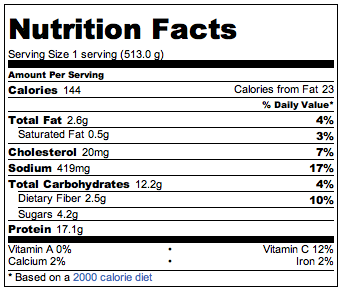 Source: Calorie Count
Information
Category

Main Dishes, Fish

Cuisine

North American