Do Late-Night Workouts Disrupt Sleep?
Evening Workouts Don't Disrupt Sleep, Studies Say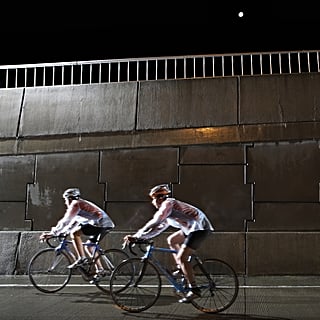 Unless you're a morning person, a three-mile jog at 6 a.m. is just not going to happen. And if your lifestyle doesn't allow for a midday workout, exercising in the late evening may be the only time to squeeze in a sweat session.
Exercising regularly can help people fall asleep faster and give them a better night's sleep, but will working out too close to bedtime interfere? It might make sense to assume yes, but according to a few recent studies, exercising before bed won't disrupt sleep.
In Finland, 11 people rode stationary bikes three hours before bedtime until they were exhausted. Even though their heart rates were elevated, they fell asleep more quickly and slept more deeply in comparison to nights they didn't exercise. In a different study in Belgium, nine volunteers biked for an hour two hours before hitting the hay and experienced similar sleep benefits.
This is great news for night owls who prefer or need to get their run, yoga practice, or strength training session in right before bed. If you feel super awake after exercising, try a warm bath, a cup of herbal tea, listening to relaxing music, reading in bed, or doing some light stretches to inspire drowsiness.