Do Running Shoes Break Down Even When You're Not Using Them?
Is It OK to Stock Up on Running Shoes?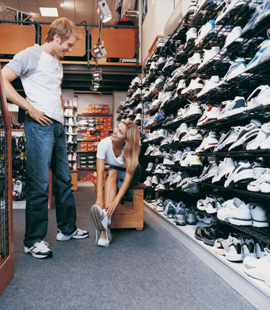 I'm very particular about the type of shoes I choose to run in, so if they're ever (miraculously!) on sale, I'm always tempted to stock up on a few pairs. Similarly, if I see an older version of my shoes on a clearance rack, I want to grab them right away. But every time I think about it, I remember reading somewhere that running shoes start to age as soon as they're produced. You know you're supposed to replace your shoes every 350-500 miles, but is it possible that your shoes can also age if they're just sitting on a store shelf, or even in your closet?
I have no idea where I read or heard this sneaker tale, so to get to the bottom of this issue I called a friend at Jack Rabbit Sports, a favorite NYC running store, and a great resource for running information. While they were adamant about replacing shoes based on mileage and wear (yep, that 350-500 miles rule came up again), they see no problem with stocking up on your favorite pair of sneaks. In fact, according to Jack Rabbit, "Keeping a new pair of shoes in the box for a few months will not affect the performance of the shoes."
That is excellent news for me, and anyone else who loves a good deal. While it's important to make sure to choose the proper running shoe, once you've found a pair you're comfortable in, it's OK to grab a second (or third!) pair to stash in the closet. Just be sure to try each pair on, even if it's the exact same shoe, since the manufacturing process may cause slight differences in each pair produced.