Do You Eat Anything You Want on Thanksgiving?
Thanksgiving is only a few days away, and I'm already excited about the food: mashed potatoes, stuffing, and cranberry sauce top my list. Oh, and let's not forget my favorite — pumpkin pie for breakfast! I've been eating ridiculously clean for the last two weeks, and am starting to worry that I may go overboard by the time Thanksgiving dinner hits.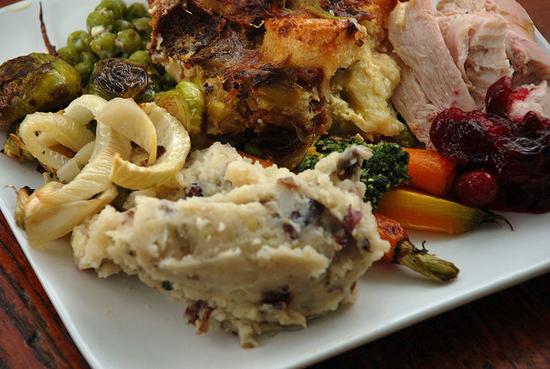 I'm usually one to say that the holidays deserve a free pass when it comes to food, but the average Thanksgiving plate contains 3,000 calories. Not too surprising when you consider that the whole day is centered around carb- and fat-laden foods with an absence of fresh fruits and veggies. And it doesn't end on Thanksgiving either. That meal usually stretches into days of leftovers, which bleed into holiday parties until Christmas and another big dinner hits, which is capped off by an (often) alcohol-fueled New Year's Eve.
But, again, it's the holidays, a time to celebrate. So which side of the food argument are you on — OK to splurge, or does portion control rule the day?
Source: Flickr user ckelly