Do You Eat Fast Food?
Do You Ever Eat Fast Food?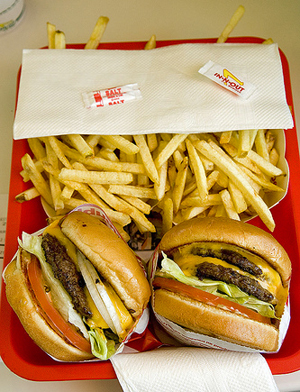 I was surprised when a friend of mine stopped into a combo KFC/Taco Bell this weekend. And since she was acting like we were on a covert spy mission, she must have been a bit surprised herself. While she went in and bought a value meal, I had to play lookout in case anyone we knew walked by. It's a silly way to act, but here in San Francisco, there is a definite stigma attached to eating fast food. Something she didn't want to deal with, obviously. But in Georgia, where my sister lives, no one blinks twice when you supersize a meal.
With obesity rates continuing to grow in this country, there's never been a more important time to skip the golden arches. Most fast food is high in fat and sodium and lacks any real nutritional value. But I would be a total hypocrite if I said I never eat the stuff. A few times a year, on the way home from a climbing trip, I can't resist a detour to an In-N-Out Burger. How about you?
Source: Flickr User pointnshoot