Do You Wear a Pedometer Daily?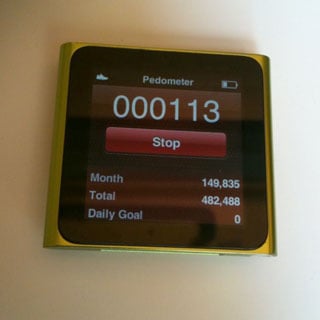 With so many fitness devices sporting GPS capabilities, clipping a pedometer to your waistband can seem a little antiquated. That's why I am loving the tiny iPod Nano; it has a built-in pedometer and fits easily into any pocket so you can count your steps on the down low. Recently on vacation in Paris, to rationalize my afternoon trysts with French pastries I slipped my Nano into my pocket daily before exploring the city's cobblestone streets. I was impressed to see that after a day traipsing around the gardens in Versailles, I took 26,572 steps.
Now that I am back to blogging (read "deskbound"), I have to work a little bit harder to reach the recommended daily 10,000 steps. And my iPod pedometer is just the inspiration I need to get up and get moving during the day since sitting for too long is bad for your health and waistline. What about you?