Don't Judge a Fitness Class by Its Teacher
Don't Judge a Fitness Class by Its Teacher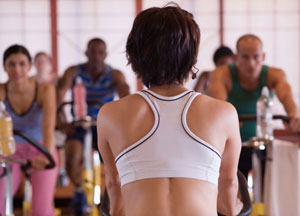 Since I'm a yoga instructor, I love to try out different types of yoga classes when I'm traveling. I've taken Jivamukti yoga classes before and really like the flowy movements and the spiritual side, so I was excited to try out a class while visiting some family recently. I'm so glad that this wasn't my first Jivamukti class, because I almost walked out halfway through. The instructor had an annoyingly low, monotone voice, the sequence of postures was really sporadic, and when she adjusted me in Rotated Triangle, she accidentally pushed me over. She also played music really loud, and not serene yoga music — she was blasting Bob Marley. I left feeling more stressed out than when I started.
My point here is that you shouldn't judge a class based on the person who taught it. Even though certain types of movement classes such as ballet or Salsa will cover the same techniques and positions no matter where you take them, they're often taught differently, depending on the instructor. One teacher may talk you through a class and walk around helping, while another may stand in the front of the room and demonstrate without saying much at all. It's important not to take one class and decide you hate it just because the instructor was insensitive, intimidating, stinky (that's happened to me), boring, etc.
My advice is to figure out the way that you learn best, and test-drive a variety of instructors to see who meets your needs. I like to ask friends about teachers they like, and of course they can't hold back from telling me who to avoid, too. It's not always easy to find that perfect instructor, so have a little patience. You'll know you've found "the one" when you pass up a Saturday morning pedicure with your gal pals because you don't want to miss Zumba with Simone.