Doonya Bollywood DVD Review
Boogie Down to Burn Calories: The Doonya Bollywood Workout
As someone who loves to dance, I sometimes find it difficult to motivate myself and push the limit outside of a classroom environment. If you can relate, then you'll want to check out The Doonya Bollywood Workout ($33 for three DVDs). I can say with confidence it's one of the most fun dance DVD series I've worked out with to date.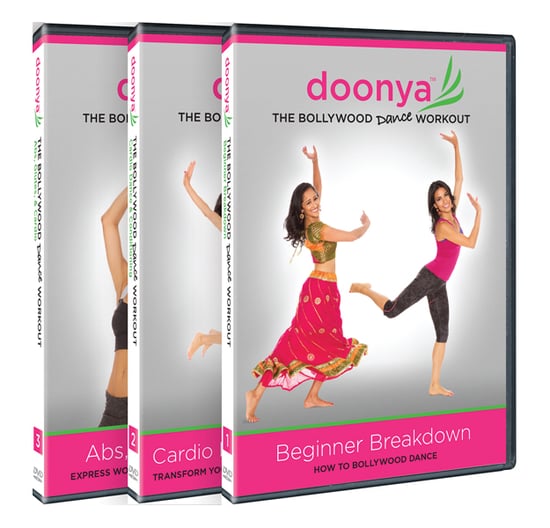 Bollywood-style dance workouts have caught on for good reason, and the two Doonya instructors, Kajal and Priya, are the perfect ambassadors for this high-energy cardio craze. Their infectious smiles and positive energy transcend the screen, but more importantly, quality instruction keeps you connected to your workout from start to finish. The Doonya Workout is a three-part series, so keep reading to learn what to expect from each of the three DVDs.
Beginner Breakdown
Too many dance cardio workouts jump into the action without giving appropriate direction, but not this one. The instructors present a step-by-step breakdown of the signature moves and also teach how to keep the body safe and comfortable for the entirety of the workout. After the ladies break it all down, the first full dance routine is presented. Six separate segments gradually culminate into one long dance. Keeping with the same approach, each short step-by-step breakdown ensures that you've grasped every detail of the fun routine, while giving you an idea of what the rest of the workouts will look like. While the Beginner Breakdown DVD workout gives great initial instruction, it should not be a standalone challenging cardio session. Think of the first DVD of the series as a resource. If there's a move you're getting tripped up on in later workouts, then come back to Beginner Breakdown and work through the specifics.
Cardio Dance & Conditioning
Once you're acquainted with the basics, it's time to move on to the next DVD. Things kick off with a five-minute warmup and nine-minute drill that (once again) review the basic steps. Then you'll move on to the good stuff: 11 different routines that target specific zones of the body. Each of these routines is approximately four to five minutes long, lasting for the full length of a Bollywood jam. I loved the fact that there was fun music I could actually groove to, but I also appreciated that there's an option to work out with instruction or mute the voices while you dance. Once you're familiar with the choreography, it's nice to have the choice to turn off instruction and focus on the music.
Abs, Glutes, & Cardio
The third and final DVD in the series offers three targeted "express" workouts. A 10-minute segment focuses on the abs, the 12-minute segment focuses on the hips, glutes, and thighs, and a final 16-minute workout offers a full-body cardio session. These workouts are a little more repetitive and feel much more like a led cardio workout than a dance class. The three could easily be performed together for one challenging session, but if you're in a bind for time, then you can still get in a quick boost of cardio with just one. I was especially taken with the hips, thighs, and glutes routine; if you're tired of your go-to bodyweight exercises that tone your lower body, then this workout will provide a welcome change of pace.
I had so much fun doing the Doonya DVDs — I was tempted to invite friends over to boogie to Bollywood with me! The workout promises to burn 600 to 800 calories per hour, and while I can't speak to the specific number of calories I burned, I can tell you that the second and third DVDs both offered challenging workouts that flew by. Once again, I wouldn't purchase one of these DVDs on its own, but regardless or whether you're an experienced dancer or a lady who just wants to move, everyone can get something out of this awesome cardio series.