Downward Dog Push-Up
Strengthen Your Upper Body With the Down Dog Push-Up
If you've always wanted to master the elegant and bold Forearm Stand, this sequence will help make it happen. Aside from spinal flexibility, upper body and core strength is a must to do this posture. If you're sick of doing regular push-ups, give this Down Dog push-up a try.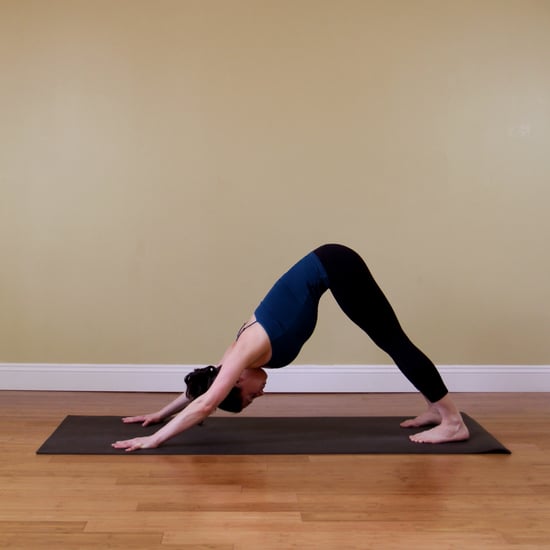 Begin on your mat, coming into Downward Facing Dog. Be sure to have your body weight spread equally between both hands and feet. Draw your navel toward the spine, engaging uddiyana bandha (your abs). Spread the fingers wide creating a stable base in the palms. Hold here, breathing steadily for five complete breaths.
With your core strong, slowly lower your forearms to the floor, so they are parallel with your torso, coming into Quarter Dog. This is an odd movement for your upper body, so it may take some thought to figure out which muscles to engage in order to make it happen. If your upper body isn't strong enough, you might need to lower one elbow at a time, but you'll eventually work up to lowering both simultaneously.
After five breaths, reverse the move. Press firmly into your palms and engage the core to straighten both arms, coming back into Down Dog. Again, it might take some practice to be able to lift both arms at the same time, but stick with it. Repeat, building up to a total of 10 times.
Focus on flowing gracefully with strength and stability back and forth between these two postures. You're sure to notice a difference in your arm, shoulder, and core strength; this will not only help you do Forearm Stand, but you'll be able to work on more advanced variations such as Scorpion. This move isn't just for yogis, so even if you don't regularly step on the mat, you can reap the arm-strengthening benefits of a Down Dog push-up.