Drew Barrymore's Diet and Exercise Plan
Get the Bod: Drew Barrymore
Drew Barrymore dazzled at the Golden Globes this year, where she picked up an award for her portrayal of "Little Edie" Bouvier Beale in Grey Gardens. The role was an intense one for Drew — the actress lost almost 10 lbs. while filming because she was so "fraught with anxiety" that she couldn't eat.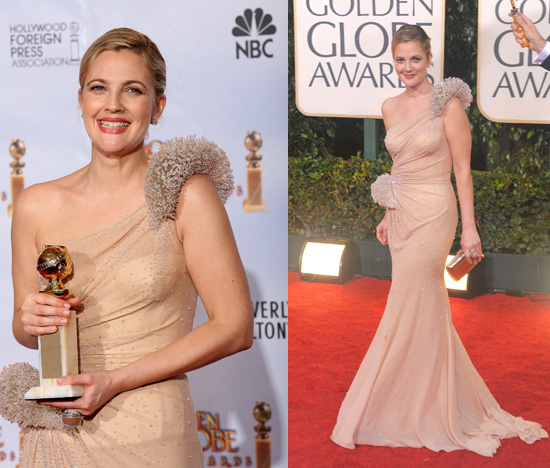 This isn't the first time Drew lost weight in an unconventional (and not-so-healthy way) — the star was on a forced diet due to the discomfort that came with getting her tongue pierced in 2008: "I couldn't eat, couldn't drink for two weeks — great diet in a weird way." Questionable diets aside, Drew has been pretty healthy when it comes to getting in shape. After years of struggling with her weight, in 2004 the actress dropped an amazing 20 lbs. and has done a great job of keeping it off.
To hear how Drew lost the weight,
.
To lose the weight, Drew went on five-mile runs, three times a week. She also enlisted the help of trainer Kathy Kaehler and power yoga instructor Mark Blanchard. Kaehler created an intense boot-camp-style workout for the actress and the results definitely showed. Since her dramatic weight loss, Drew has kept up with running and yoga, and has also added the StairMaster and Pilates to her fitness regimen.
As far as diet goes, it's all about portion control for Drew. She sticks to smaller, but more frequent meals that include lean proteins and lots of veggies. What I love most about Drew, though, is her refreshing attitude. In the last year she has completely accepted who she is, dismissing the negative body image that she once held onto. She now wears what she wants, eats right, and exercises, and isn't bothered if she feels like "Jell-O on a pole" some days.