Dreya Weber Exclusive Interview: Aerialist, Teatro ZinZanni, P90X
Fly Through the Air With Aerialist (and P90X Star!) Dreya Weber
Dreya Weber may not be a household name, but in the circles she runs with, she's a big deal. Renowned aerialist, former Olympian, and the choreographer behind Pink's jaw-dropping aerial routine at this year's Grammys, she's also toured with Madonna, Britney Spears, Rihanna, and Christina Aguilera. But hey, if aerial arts aren't your thing, Dreya is just as known for appearing in the P90X DVD fitness series — she even has an exercise move named after her, the Dreya Roll!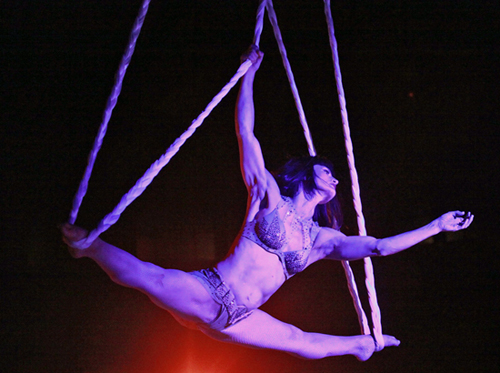 Dreya is currently playing Cleopatra at Teatro ZinZanni in San Francisco, a dinner cabaret show that combines live music, improv, and circus arts. On a recent Friday, I was invited to see the show for myself; I didn't know what to expect, but the whole production blew me away. Quite literally between a costume change, I had a few minutes to ask Dreya what she does to stay in such amazing shape. As an aside, these pictures are a far cry from how amazing she looks in person; Dreya is clearly one fit woman who takes great care of herself!
Find out what Dreya does to stay in shape, and see pics from the show when you read more.
A farmers market kinda gal. Dreya is all about fresh fruits and veggies, thanks in large part to her mother. From an early age, her family was shopping at the farmers market for their meals. Whole grains are also high on Dreya's list, and she keeps her diet pretty meat-free. Her big indulgence? Cheese, which she likes to pair with fruit or nuts.
Why P90X? "It works," says Dreya. "It's a totally holistic system that has an end goal [90 days], which is extremely important." Her favorite components of P90X are the yoga, plyometrics, and cardio.
Staying in shape is her life's work. Dreya makes her living off her body — her athletic prowess — and as such, she "must keep" her body in shape. While she does some running here and there, training and practicing aerial arts is what she focuses on to keep her body conditioned.