Is Drinking Water During Yoga OK?
Have You Ever Been Scolded During a Fitness Class?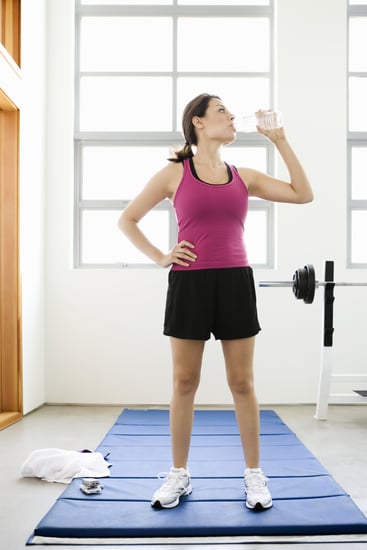 During my last yoga class, I was indirectly called out by the teacher. After completing a challenging Warrior flow sequence, I was hot, sweaty, and thirsty, so I took a drink of water from my bottle and wiped the sweat off of my brow. The teacher walked by my mat, glanced at me, and then said to the class: "As you're moving through your practice today, remember that yoga is about being present and freeing yourself from distractions. Remember this as you readjust your clothes, drink water, or wipe sweat away. See if you can stop yourself from doing this until class is over."
Given the timing of her comments, I couldn't help but think that her thoughts were directed at me. As much as I get that yoga is about being present, I can't focus on my practice when I feel dehydrated or have sweat dripping in my eyes. I have to admit that her comments were hard to shake during the remainder of class. They didn't stop me from drinking water when I needed it, but I did feel a little guilty whenever I reached for my bottle.
Has an instructor ever called you out during class? Share your experience in the comments section below.