Ease Your PMS Symptoms With Banana Oatmeal Cookies
Healthy Recipe: PMS Banana Oatmeal Cookies
When monthly moodiness strikes, I fight back with baking. Having fought the symptoms of PMS in the past by making a batch of banana muffins, I went to the kitchen to see if I could bake a cookie to ease my symptoms. I created a pretty healthy oatmeal cookie that you can eat relatively guilt-free when the craving strikes. Calcium, magnesium, and vitamin B6 have been found to fight the moodiness that often rides in on the "crimson wave," along with breast tenderness and bloating. Aside from the cramp-busting mineral potassium, bananas contain vitamin B6, as does oatmeal. Peanuts are high in magnesium and add a little protein to these cookies as well as a bit of calcium. Omega-3s ease cramping, so I added some flax meal into the mix. Flax also adds a bit more B6. Nothing related to PMS would be complete without a bit of chocolate, so I added some chocolate chips too.
Check out the recipe and the nutritional information on these cookies when you
.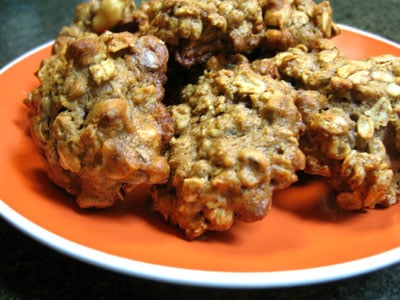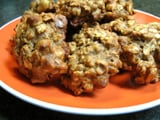 Ingredients
2 ripe bananas
1/2 cup butter softened
1/2 cup dark brown sugar
1/4 cup white sugar
1 1/2 teaspoons vanilla
2 large eggs
1 cup whole wheat flour
1/2 cup flax meal
1 teaspoon baking soda
1/2 teaspoon salt
1 teaspoon cinnamon
3 cups old fashioned oats
1 cup peanuts
1 cup chocolate chips
Directions
Pre-heat oven to 325 degrees. Spray cookie sheets with cooking spray.
Cream together bananas, butter, and sugars with a mixer. Add vanilla and eggs, stir until well combined.
In a separate bowl whisk together flour, flax meal, baking soda, salt, and cinnamon.
Add dry ingredients to banana mixture and mix well. Stir in oats, peanuts, and chocolate chips.
Drop tablespoon-size balls of dough onto greased cookie sheets. Bake for 12 to 15 minutes, or until browned. Cool on sheet for two minutes before moving to a cooling rack.
Makes 48 cookies.
Information
Category

Desserts, Cookies

Cuisine

North American I halved the sugar content in these cookies, since it is best to avoid simple sugars in the battle with PMS. The banana provides sweetness and lowers the fat content, so the cookies require only one stick of butter rather than two. Enjoy one or two cookies with a glass of milk to get even more calcium. Sure do hope they help stabilize your mood and satisfy your craving for something sweet.