Easy Dairy Substitutions
Ways to Include Less Dairy in Your Diet
Eating too much dairy can cause a number of issues for people such as tummy troubles, congestion, and acne, so if you're trying to cut back on the amount of dairy in your diet, here are some ways to do it.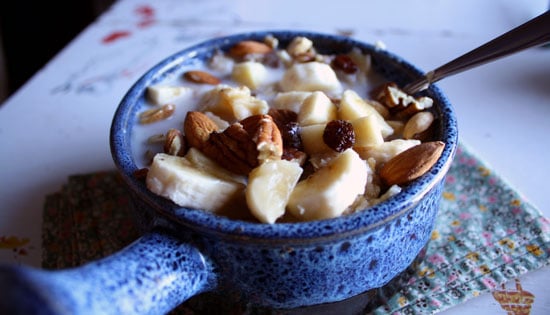 Skip the cheese on your burger. Eating a hamburger not only avoids dairy, but it also saves you about 100 calories.
Pour almond milk in your cereal. It's deliciously creamy, lactose-free, and contains the same amount of calories per serving as skim milk.
If you love yogurt with fruit and granola for breakfast, opt for soy yogurt. O'Soy and WholeSoy are slightly higher in calories than regular yogurt, but offer six or seven grams of protein, just like Stonyfield Farms' Nonfat Vanilla.
Continue reading for more ways to ditch the dairy from you diet.
Hold the cheese on your pizza and add flavor by topping your pie with veggies and meat (or meat alternatives) instead.
Butter your toast with Earth Balance in place of butter. Don't use Smart Balance as it contains a small amount of whey derived from milk.
Whether smearing it on your toasted bagel or making icing for carrot cake, use Tofutti cream cheese in place of regular cream cheese to eliminate dairy while reducing fat and cholesterol. And if you can't live without cheese, try one of these vegan, dairy-free cheeses instead.
Enjoy veggies with hummus instead of dip made with sour cream for a dairy-free, cholesterol-free alternative.
You don't have to live without ice cream. Here are some of my favorite dairy-free desserts: Tofutti cuties, Full of Fruit bars, so Delicious "ice-cream" bars made with coconut milk, and Ciao Bella Sorbet.
I'd love to hear your ideas for going dairy-free, so share them in the comments section below.
Source: Flickr User Laura HB