Easy Jamie Oliver Salad Recipe
Jamie Oliver's Deliciously Easy Chopped Salad
Jamie Oliver's Deliciously Easy Chopped Salad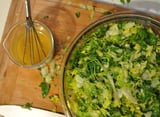 Ingredients
4 scallions
1/2 cucumber
One handful of fresh basil leaves
2 small, just ripe avocados
1 butterhead lettuce
6 tablespoons extra virgin olive oil
2 tablespoons red wine vinegar
1 tablespoon English mustard
Salt to taste
Ground pepper to taste
Directions
Get yourself a big chopping board with a sharp knife. It's best to start by chopping the harder and crunchier veggies first. So trim and chop your scallions and slice your cucumber. Slice your basil. Bring it all into the center of the board and continue chopping and mixing together.
Halve your avocados around the big pit. Carefully remove the pit and peel the skin off. Add the avocado flesh, lettuce leaves to the board. Continue chopping until everything is roughly the same size. Put it in a large bowl.
In a small cup add 6 tablespoons of olive oil and 2 tablespoons of red wine vinegar. Add one tablespoon English mustard and a good pinch of salt and pepper to the olive oil and vinegar. Stir well. Plate your salad and drizzle the dressing over the top.
Serves 4.
Information
Category

Vegetables, Salads

Cuisine

North American