Easy TV Stretches
Tune in and Unwind: 3 Seated Stretches For TV Time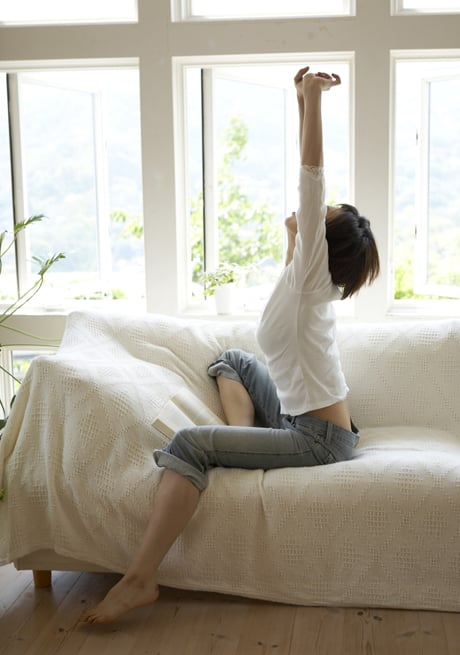 Multitask during TV time with a helpful stretching session — and you don't even have to get up from your seat! From your favorite chair or sofa, try out these three easy moves that will relieve tension in your neck, back, chest, and shoulders.
Seated Clasping Neck Stretch
Source: POPSUGAR Studios
Use your hands for a deep stretch at the back of your neck and your upper back:
Clasp your hands and bring both palms to the back of your head. Sitting with a tall spine, ground your hips firmly into your seat.
From here, begin to gently press your hands down toward your thighs, tucking your chin into your chest. As you press down, use the heels of your palms to pull your head away from your shoulders. This will intensify the stretch even more.
Hold here for at least 30 seconds and then slowly lift your head up and release your hands.
Behind the Back Stretch
Source: POPSUGAR Studios
You can easily move this standing stretch to your couch. It will offer a deep stretch to the sides of your neck:
Sit at the edge of your couch. Firmly plant your feet into the floor and make sure your shoulders are in line with your hips.
Reach both hands behind your backside and hold on to your left wrist with your right hand. Use your right hand to gently straighten your left arm. If it feels comfortable, use your right hand to pull your left arm away from your body slightly.
To increase the stretch in your neck, slowly lower your right ear toward your shoulder.
Stay here for 30 seconds and then switch sides.
Seated Mountain Pose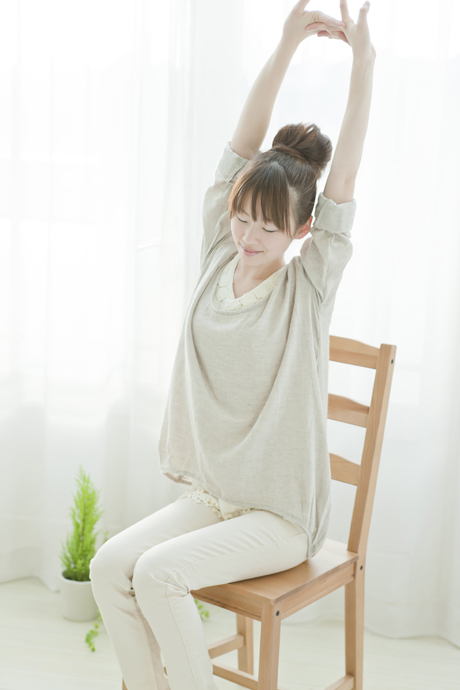 Release any leftover tension in your shoulders, chest, and sides with this easy overhead stretch:
Sit erect at the top of your chair or sofa, clasp your hands, and extend your arms forward, palms facing forward. Then raise your arms overhead until your palms are facing the ceiling.
Elongate your spine and feel the stretch in your rib cage and arms. Hold here for 10 breaths.
On an exhale, tip your torso to the left. Hold for another 10 breaths. Then come back to center before stretching toward the right.