Eat Slower and at the Table
Smarter Eats: Have Meals at the Table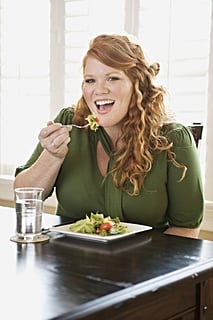 One way I've been eating healthier this year, is by practicing mindful eating. What I mean by that is I'm really taking the time to be aware of the food I eat. By doing so, I'm developing healthier food habits and eating in more responsible ways. I know it may sound a little zen, but it really works. Besides giving myself a meat budget and focusing on the simple act of chewing, what's really helped is eating my meals at the table.
In the past, whenever I ate at home I would cook my meal in the kitchen but eat it in front of the TV. Most of my friends are guilty of the same. Eventually, I started to realize how bad it is because the television — or laptop, book, etc. — becomes a big distraction from our food. Instead of taking the time to sit and really enjoy it, we're sort of just scarfing it down while something else takes center stage. Think about it: how many times have you watched a movie and were then amazed at the amount of popcorn you ate through the whole thing?
Eating at a table, free of distractions helps in a lot of ways. First of all, I take time to enjoy the taste of my food more, and by doing so I tend to eat a lot less. And since I am giving myself more time to eat, I also chew my food more. It may seem like a silly point, but chewing helps with digestion and makes you feel satisfied sooner. And now, I will get a little zen on you — for me sitting down at the table is a small way to respect the food you're eating. You put a lot of hard work into cooking it, now take the time to really enjoy it! Although it may sound silly that little bit of awareness has made me a better cook and more responsible eating. Ultimately, I care more about all aspects of the meal in a way I didn't before.
My challenge for you is to try and eat all of your meals, for the next seven days, at the table (your desk does not count as a table). Check back in with me and let me know how you did!