Eating Chocolate May Help Lower Your Blood Pressure
That Chocolate Bunny Could Lower Your Blood Pressure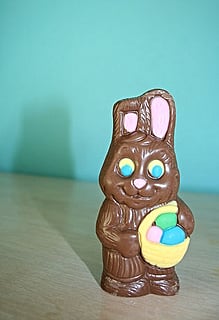 Don't be shy about nibbling at the ears of a chocolate bunny this Easter, because researchers have just given us another reason to eat this sweet treat. (Don't you love it when that happens?) Based on a study of 20,000 patients ages 35 to 65, scientists found that those who consumed more chocolate had a lower risk of heart attack and stroke, leading to the conclusion that a small amount of chocolate daily could help control your blood pressure.
We've already heard that dark chocolate has a similar effect, while also reducing stress and boosting the immune system. This study included milk, white, and dark chocolate — though researchers still say dark chocolate probably has the most health benefits. For further details of the study,
.
It's not entirely clear how the researchers were able to determine that it was chocolate that made the difference; Brian Buijsse of the German Institute of Human Nutrition says that more studies are needed. However, he adds, "a future recommendation could be that if people eat a small amount of chocolate, they can replace it for something else, maybe leaving out a snack or another sweet."
What is a small amount? Based on the study, the benefits were highest when people ate about a quarter of an ounce of chocolate daily — basically, a bite of a chocolate bar. So nibble those bunny ears, but don't eat the whole bunny.
Source: Flickr User SpecialKolin