Eating Nuts Helps You Live Longer, Study Says
Go Nuts, Live Longer: Eat Three Servings a Week For Your Health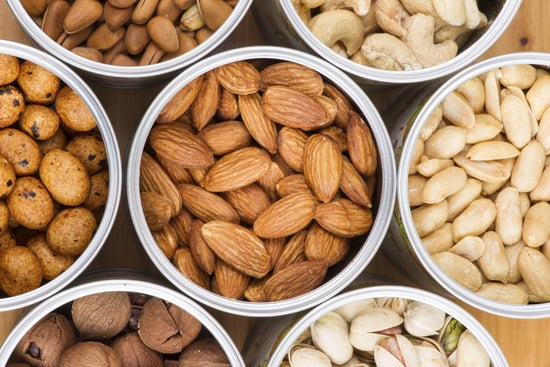 There's a reason healthy kitchens are usually stocked with nuts; they're a convenient snack full of protein, good fats, and fiber. Even better, a little goes a long way in keeping you satisfied until your next meal. A new study highlights an even more amazing benefit — people who eat nuts three times a week are less likely to die from cancer or heart disease.
The study, published in BMC Medicine, followed over 7,000 older people with high heart disease risk who were either on a Mediterranean diet (already shown to be one of the healthiest ways to eat) supplemented with extra-virgin olive oil, a Mediterranean diet supplemented with nuts, or a low-fat diet. The participants were followed for a median of almost five years; researchers found that those who ate an ounce of nuts three times a week reduced their risk of dying from heart disease by 55 percent and cancer by 40 percent. There were also fewer people with Type 1 diabetes or hypertension in the nut-eating group. Nut eaters also had a 39 percent lower risk of dying overall than the rest; those who ate more walnuts fared the best, having a 45 percent lower risk of dying.
Other studies have already shown that people who eat nuts have a lower BMI, smaller waistline, are less likely to smoke, and are more physically active than those who don't eat nuts, so it seems choosing nuts as your snack might spur you to make healthier choices overall. Just remember nuts are high in calories, so don't go overboard and eat a whole can in one sitting. Learn just how many nuts are in an ounce here.