Eco-Friendly Tips For Grocery Shopping
Hit the Health Food Store With These Earth-Friendly Tips
Buying groceries from the local Whole Foods or other health food store (like January Jones did last weekend) often means you're doing your body good. Once you're there, the choices you make may also do good for the planet. Follow these earth-friendly tips on your next grocery shopping trip.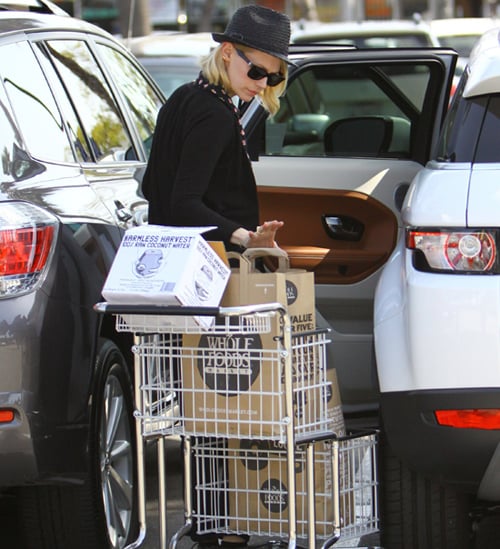 Choose an eco-friendly mode of transportation: Reduce smog-causing pollutants by walking, biking, carpooling, or taking a bus to the store. Getting there by foot or two wheels is also good exercise, so it's a double bonus.
Shop with reusable bags: Just think about all the waste created from using disposable grocery bags. Do your part by bringing reusable bags for groceries and produce. Not only are you doing good for Mother Earth, canvas bags have sturdy handles, which make them easier to carry, and their durability makes them less likely to burst open, which means no wasted food. If you forget your bags, always choose paper bags over plastic.
Keep reading for more eco-friendly ways to hit up your health food store.
Buy local and in season: Shipping food from other states and countries means you can have mangoes when they're out of season, but it also means lots of pollution from airplanes and trucks. Whenever possible, choose locally-produced food that's in season, and bonus — the freshness makes them taste better and last longer.
Choose organic: Personally, I think organic food is more delicious, but aside from that reason, choose it to lower your exposure to pesticides. Choosing organic also means less pesticides in soil and water supplies for future generations. If cost is an issue, check out the dirty dozen produce list to see which foods are worth the splurge.
Go for less packaging: Packaging is essential for protecting food items, but the extra paper, glass, or plastic is also a huge waste. Reuse plastic produce bags; when purchasing meat, skip the foam trays and head to the meat counter instead; buy grains, baking ingredients, herbs, coffee, nuts, beans, and dried fruit in bulk; and when buying packaged foods, choose ones wrapped with cardboard or recyclable plastic.