Elite American Women Running Boston Marathon | 2013
Meet the Elite American Women Running This Year's Boston Marathon
This Monday marks the 117th running of the Boston Marathon. The historic race is one of the most respected of its kind and also happens to be the oldest-running marathon to date. Often seen as a bucket-list item for runners — you do have to earn your spot, after all — Boston continues to attract high-profile, elite runners to its course.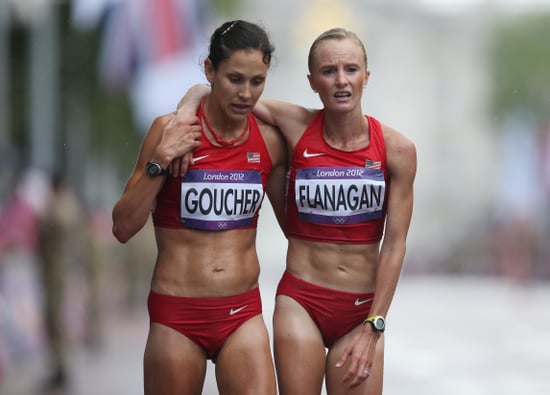 This year is no exception: Americans Shalane Flanagan and Kara Goucher will be part of the elite women's pack vying against one another for a first-place win. Both of these women will face tough competition from defending champion Sharon Cherop of Kenya; Aselefech Mergia Medessa of Ethiopia, whose personal best of 2:19:31 puts her in the top 10 of all time; and the 2012 World Half-Marathon champion, Meseret Hailu Debele, also of Ethiopia.
Both Shalane and Kara were part of the US women's marathon team for the London Olympic Games, finishing 10th and 11th, respectively. While both women have trained for the marathon together, Kara may have a leg up on experience, having finished third and fifth previously in Boston. For Shalane, who grew up in Massachusetts, the race is wrought with sentiment. Both Shalane's parents have run Boston, and her sister will be amongst the 28K runners participating this year. This will be Shalane's first time running Boston.
If you are as curious as we are to see how Shalane and Kara fare, as well as the rest of the elite pack, be sure to follow us on Twitter. We'll be live tweeting from the Boston Marathon and providing frequent updates on how all the elite runners are doing.