Ellen DeGeneres In Shape: May 2010 Cover
Ellen DeGeneres Lives Life to the Max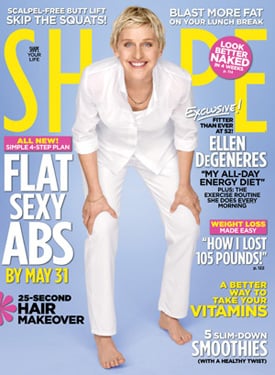 Humor, warmth, and compassion are just a few reasons that I have serious love for Ellen DeGeneres. To me, she's America's sweetheart. She's also super funny without being insulting and a true inspiration for women regardless of their body type, size, or shape. Makes sense that American Idol chose her as a judge, and it makes even more sense that CoverGirl chose her as one of its spokeswomen. Ellen, 52, sat down with Shape for its May issue to talk candidly about being in love with wife Portia di Rossi, her commitment to yoga and veganism, and how the power of positive thinking has brought her success.
Here are the highlights:
On escaping the pressure of Hollywood: "Either I wasn't that stereotypical beautiful girl or they just gave up on me. I was just funny. That's what I was. I never thought I was supposed to dress a certain way or be a certain size. I never put that pressure on myself, and no one ever put it on me."
On staying motivated to be healthy: "It's hard, but you have to make time to take care of yourself. Only after you're taking care of yourself can you take care of other business. You have to ask yourself what it is you need to do while you're here. We are all here to do something."
To find out what Ellen has to say about diets, being in love, and being vegan, read more.
On why her relationship is good for her self-image: "She loves me no matter what. Whenever I feel bad about myself, or if I'm in a period where I'm not working out, she's constantly telling me that she doesn't notice, that I look beautiful. She'll say, 'I think you could gain 10 more pounds.' She would rather have me heavier than thinner, and she really hates that I ever doubt myself. She loves how I look. She wants me to be happy and never think about it."
On her yogi: "He's so amazing. His energy is so calming. For someone like me, who loves to sweat and push herself, it's a challenge to slow down, to sit, to breathe and hold poses."
On gaining weight as a teenager: "All I did was eat. Cheeseburgers, fried chicken, fried things . . . and then some things happened in my life, and, as a lot of young girls do, I put on weight as a barrier, as protection, to keep people away. I was always dieting, always struggling, always trying to lose it."
On dieting:

"Diets don't work. It has to be a way of life . . .

[food choices] should never come from a place of depriving yourself. They should come from a place of nurturing and being good to your body. It shouldn't ever be, 'I can't' or 'I shouldn't.' "
On being vegan: "Food used to be really important to me. I loved steak, I loved hamburgers, I loved all that stuff. I can't believe how irresponsible I was, eating what I ate . . . I want to be on my toes; I want to have energy. And as much as the [vegan] diet seems like a sacrifice, it's helping me."