Embarrassing Fitness Date Story
If You Agree to a Fitness Date, You Better Know What You're Doing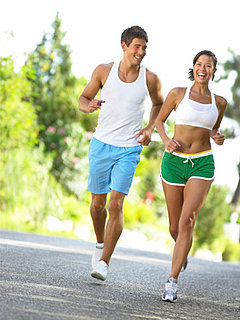 While indulging in my guilty pleasure of this week's episode of 90210, one scene hit close to home. One character, Naomi, has no idea how to surf but agrees to a surfing date with a guy she has a crush on, pretending she knows what she's doing. "How hard can it be?" she says. You can guess how this worked out, and it wasn't pretty.
While this plotline has probably shown up in most comedies and dramas to hit the airwaves, it's so laughable because it's actually happened to plenty of people, including me. At the risk of complete embarrassment, check out this real-life example of why you should always know what you're getting yourself into after the break.
A few years ago when I was a recent college grad living in a big city I met a very cute guy. I was always athletic but not yet a serious runner, he was six years out of school but a Division I cross-country runner. So, naturally, I bent the truth and said I was a runner, too . . . and then cheerfully said, "We should go on a run sometime!" To my amazement, he accepted, and we set a date for the following week. In the days leading up to our run, I focused more on what I'd wear and less on how I was going to make it five miles. After all, I could run two miles with no problem . . . what's another three?
Of course, this ends as predictably as 90210. . . I made it nearly four miles before I had to stop, claiming I'd felt rundown from a cold. Years later after I finished my first marathon, the guy (who had since become a close friend) teased me about our running date, claiming he knew from mile two that I didn't know what I was doing.
Whether he truly knew or didn't know, just a reminder: if you're going on a fitness date, make sure you can handle it! In addition to potential physical injury, you risk a severely bruised ego.