Emma Roberts Covers Women's Health — Talks Pole Dancing
Emma Roberts Talks Pole Dancing With Women's Health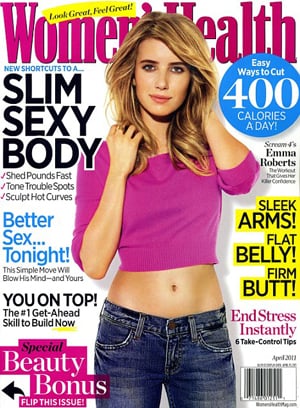 Scream 4 actress Emma Roberts opened up to Women's Health about her workout of choice — pole dancing! Emma is on the April cover.
"I started taking [pole dancing] classes with friends as a way to both work out and hang out. You don't realize how much upper-body strength you need. It's also a good way to build confidence."
Emma isn't the only actress to stay in shape by pole dancing — Amy Adams, Kate Hudson, and Teri Hatcher have all been known to frequent Shelia Kelley's S-Factor classes in Los Angeles. The workout helps tone muscles, firm the body, increase flexibility, promote weight loss, and elevate energy levels. It also helps women cultivate sensuality, self-confidence, and a positive body image.