Empire State Building Run-Up Is February 8, 2012
Race Up the Empire State Building Is Tonight!
I'm all for jogging up stairs to warm up before a run, and I've even come to love running hills. But running straight up the 86 flights of stairs it takes to get to the top of the Empire State building seems grueling. That's just what the 650 brave souls who are entered in the 35th Annual Empire State Building Run-Up Race are doing tonight.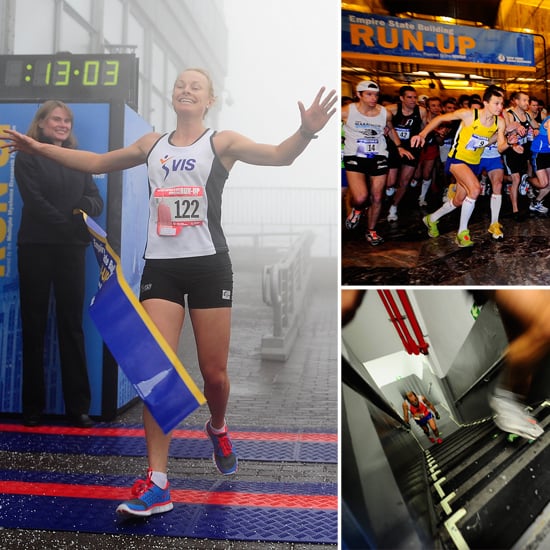 Keep reading to find out how long it took last year's winners to complete this race.
Last year's male winner, Thomas Dold, completed the race in a little over 10 minutes, and Alice McNamara won the women's race in just over 13 minutes (photo on the left). Can you imagine sprinting up flights of stairs for 13 minutes straight? Cindy Harris, an accountant from Indianapolis who won the women's race four years in a row before McNamara, is hoping to complete the race this year in under 13 minutes.
Carrying your body weight against gravity and the demands placed on your lungs, quads, glutes, and calves make this an insanely challenging form of running. If you've had to climb up flights of stairs to get to a friend's apartment or you've tackled the stair-climber machine at the gym, you know all too well how difficult stair-climbing can be. Harris says she usually runs up two or three steps at a time and holds on to the railings to take pressure off her legs. Pacing yourself is also key so you can have the strength and energy to make it to the top. Cindy says, "It's pretty intense and you're breathing hard for almost the entire time. Your legs get heavy and you feel it in your quads." Um, yeah, I can only imagine.
Known as skyscraper running, tower running, or competitive stair-climbing, this emerging sport takes place in other tall buildings around the world, including Taiwan's Taipei 101 and Chicago's Willis Tower. Would you be into this type of running?