Energy Bar Recipe For Cycling
DIY: Energy Bars For the Long Ride
Cycling is one sport where you definitely need to eat on the go. Convenience, portability, and ease of eating are all factors that define a cyclist's fuel. We found a tasty recipe from competitive cyclist and self-described professional snacker Neil Bezdek, aka Rambling Man. Whether you're going on four hours in the saddle or just need energy on the go, this recipe is sure to please. The oats alone will help regulate your body's blood sugars to keep your glucose levels steady, and the chocolate chips give you the instant energy you need to keep on climbing.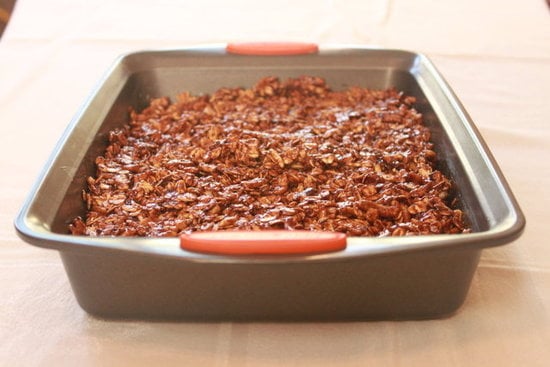 DIY: Energy Bars For the Long Ride
Ingredients
4 cups rolled oats
4 cups cereal
1 cup each filler (nuts, raisins, chocolate chips, etc.)
2 cups sweetener/binding agent: corn syrup, maple syrup, agave nectar, or brown rice syrup
1 1/2 cups peanut butter
Salt to taste
Directions
Heat the sweetener and peanut butter over medium heat; combine the remaining ingredients in a large mixing bowl.

Stir in the heated sweetener mix, pour into a large square pan, and let it cool.

Slice each batch up into 2-inch-by-2-inch squares, each of which delivers about 250 calories and 40 grams of carbs, a perfect dose of energy for 60 minutes on the bike.
Nutritional Source: Calorie Count
Information
Category

Other, Snacks

Cuisine

North American