Enter Our Get Fit For 2010 Giveaway!
How are your New Year's resolutions coming along? You've had over a week to live with them, and here's your chance to reassess your health and fitness goals for the new year with the Get Fit For 2010 community challenge. Since sticking to resolutions — running a marathon, losing your baby weight, or eating a more balanced diet — can be rough, we have not only started a community group for support but also created a contest so you can win prizes while working toward becoming a healthier you. For the next 12 weeks, we will be posting a challenge on FitSugar every Monday, and by meeting the challenge you will be automatically entered for a chance to win the weekly prize — a $100 Nike gift card.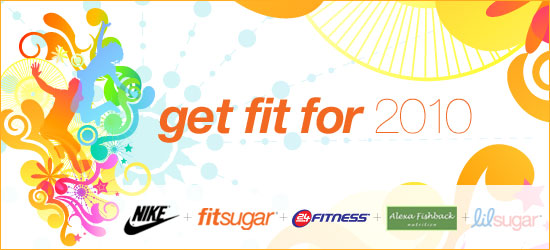 This week's challenge: Write a blog post stating your fitness and health goals for the year in the Get Fit For 2010 group. I'd love to see a "before" image to go with your blog post too.
I am participating (one of my goals is to run a half marathon), and my pal LilSugar is joining the community too — she'll be video blogging her progress every Tuesday. If you're ready to join the fun and feel the community support, log in and head directly to Get Fit For 2010. Need a little help making a blog post? Then check out these tips on posting in our group.
At the end of three months, we will pick a grand prize winner at random from all of the entries in all of the weekly challenges. The more you participate, the more chances you have to win the grand prize: a $1,000 gift card from Nike; a year of personalized nutrition plans by nutritionist Alexa Fishback, plus a copy of her book; a year membership to 24 Hour Fitness for you and a friend; and two Bodybuggs.
If you're not already a member of the PopSugar Community, register here now. Click here for the official rules.
You have until 11:59 p.m. PST on Sunday, Jan. 17, to complete your first challenge. I can't wait to read what your goals are. Ready. Set. Blog!