Enter Our Get Fit For 2010 Giveaway: Challenge 3, Food Journal
Last week your Get Fit For 2010 challenge was assess your fitness level with three tests then write a blog post of the results, and you received an extra entry if you also wrote a blog post of your body measurements. Now it's time to talk food.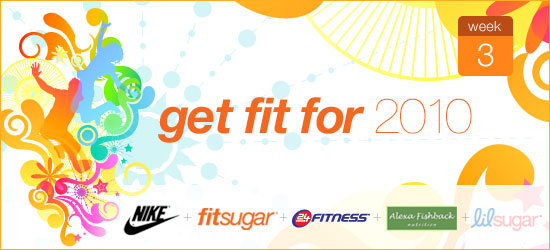 This week's challenge: keep a food journal by writing a blog post in the Get Fit For 2010 community group of all you eat in an entire day. Don't forget to add photos of your food. To help you, we've created an easy to use printable food journal. Just download the PDF, print it out, and start tracking your food intake. Not only is this a good way to keep track of the calories you're consuming when trying to lose or maintain your weight, it is great to track your fruit and veggie intake too (one of my goals is to eat five to seven servings of produce daily). By meeting this challenge, you will be automatically entered for a chance to win our weekly prize — a $100 Nike gift card.
At the end of three months, we will pick a grand prize winner at random from all of the entries in all of the weekly challenges. The more you participate, the more chances you have to win the grand prize: a $1,000 gift card from Nike; a year of personalized nutrition plans by nutritionist Alexa Fishback, plus a copy of her book; a year membership to 24 Hour Fitness for you and a friend; and two Bodybuggs.
If you're not already a member of the PopSugar Community, register here now. Click here for the official rules.
You have until 11:59 p.m. PST on Sunday, Jan. 31, to complete your third challenge. Ready. Set. Start journaling!