Enter to Win $250 or a Deux Lux Tote Bag
Pin Your Summer Inspiration Today and Enter to Win!
Are you ready to beat the heat? To celebrate Summer's long, lazy days, FitSugar is partnering with Shape and Everything But Water to bring you some serious Summer inspiration. And today, June 5, is the day to showcase your Summer style on Pinterest! To celebrate our Beach Body Survey results, check out our group board, and then create your own beach body inspiration board, filled with your Summer inspiration: sandy beaches, motivating workouts, inspiring quotes, and your favorite swimsuits from Everything but Water. With two great prizes, there's no reason not to join in on the fun. Ready? Start pinning.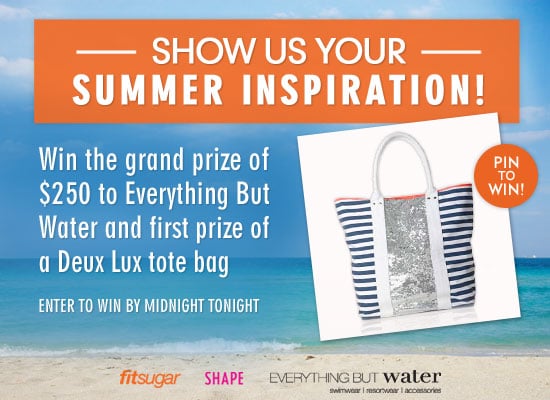 1. Follow @shapemagazine, @FitSugar, and @ebwstyle on Pinterest, and check out our "Beach Body Inspiration" board.
2. Create your own board entitled "Beach Body Inspiration."
3. Repin at least three (3) of our pins and one pin from EverythingButWater.com. Show us what about Summer inspires you!
4. Fill out the form to enter!
One grand prize winner will win $250 to spend at Everything but Water. One first place winner will win the adorable Deux Lux tote bag. View the official rules.