Essential Running Accessories
4 Accessories For a Great Run
No matter how short a run, there are a million things that can go wrong: cramps, blisters, wind, and dehydration can ruin even the best intentions. The key to a good run is to be prepared with the right running shoe as well as accessories that help you while you run. Here are a few of my favorites that have made each of my runs more comfortable and fun.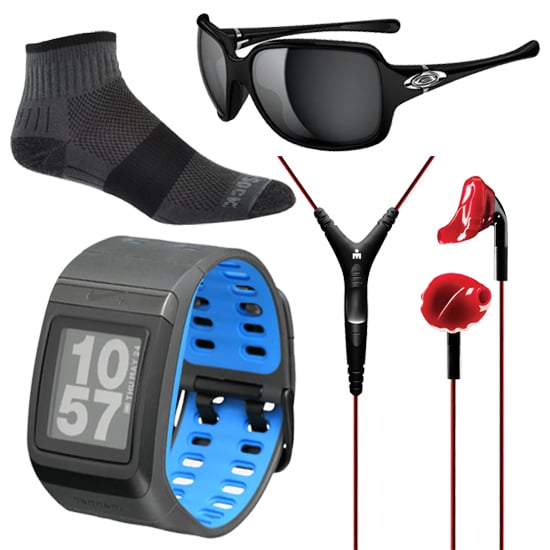 Earbuds: No other earbuds have worked as well for me as Yurbuds, and I love that the Inspire Pro ($60) is sweat- and water-resistant, meaning I can keep the tunes coming even when it rains. The three-button control makes it easy to click through my playlist and adjust volume without having to take my phone out of my armband.
Wicking socks: I've had trouble finding socks that feel comfortable during runs. Some are too thick and not breathable, while others don't offer the extra cushioning I need on high-impact areas of my feet. The thin Wrightsock Cool Mesh II ($11) is the perfect combination, and it's specially designed with a double layer to prevent blisters.
Sunglasses: Even on cloudy days, the sun can irritate your eyes. I protect my eyes from harmful rays (and keep my brow unfurrowed) with sunglasses from Under Armour or Oakley. Try the Under Armour Recon ($80) or the Oakley Break Point ($130) — both are fashionable enough to not look like "sports" sunglasses, and they stay put no matter how windy the weather or sweaty I get.
Fitness tracker: I rely on my fitness tracker to help me stay on pace as well as track my mileage as I go. I've been using the Nike+ GPS Sportswatch ($150) for the last few months and I love it — even when you don't have a GPS connection, you can sync it with a Nike+ sensor ($19), which fits in certain Nike+ shoes or your pocket, to track your run anywhere.