Eva Mendes Shoulder Workout: Punch-Ups With Dumbbells
Get the Bod: Eva Mendes
Eva Mendes, to me, always looks great: a little bit curvy, nice tone, and always sexy. She also has arms to die for! Health magazine reveals the exercise Eva does for tank top worthy shoulders is punch-ups.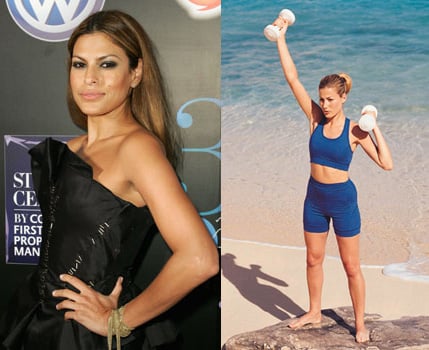 Hold a weight in each hand with palms facing your cheeks.
Keep your right fist by your cheek and raise your left fist towards the ceiling, then lower. As you lower your left fist, raise your right fist — essentially you are punching upwards towards the sky. That's one rep.
Start off by doing 25 reps at a moderate pace. As you feel more comfortable, increase the pace and number of your reps by increments of 25.
Another great exercise to get a back and shoulders like Eva is our upright row with overhead shoulder press.