Even Jillian Michaels Has a Hard Time Motivating to Work Out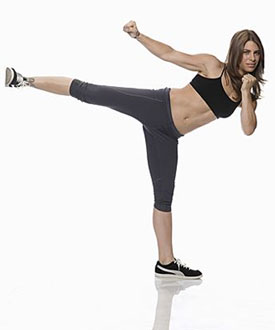 Don't worry if you feel undisciplined when it comes to working out — you are not alone. Biggest Loser trainer and creator of a handful of popular workout DVDs, Jillian Michaels admitted to Health that she's not the most focused fitness fiend. When asked one area of her life where she is undisciplined, she answered "The only thing I would tell you is fitness." Shocking, I know. To keep her workouts tough, this famous trainer works with a trainer. "He's a monster. He pushes me in ways I wouldn't push myself," says the woman voted Healthiest Body, by the magazine.
For all you who feel that getting to the gym or working hard once you're there, is out of your scope, I hope you're comforted and motivated by Jillian's statement. When you feel your motivation waning and can spend some dough, invest in a month's worth or more of sessions with a trainer. If you have stopped pushing yourself, work out with a buddy or take a group fitness class since those instructors will keep you lunging and squatting longer than you would if you were by yourself.
I want to hear about your relationship with fitness. Do you feel disciplined or not? Are you working out with a trainer? Friends?
Photo courtesy of NBC