Everyday Fitness Can Increase Your Caloric Burn, but Watch What You Eat Too
Green Your Grocery Shopping and Walk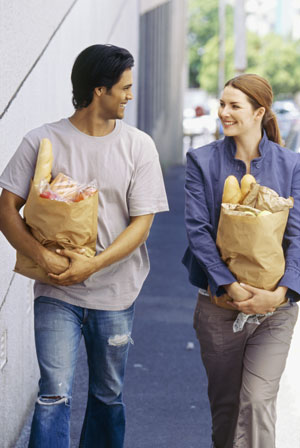 A hundred years ago, basic living was a lot more work. From chopping vegetables to walking to work, the average energy expenditure for an individual was three to five times higher than today. That means everyone burned more calories just by going about their day. Our modern conveniences from peeled, chopped, and sliced baby carrots to our automobiles have left us a little soft.
I have been trying to drive less these days and have been hoofing it to the grocery store. Yep, I am burning extra calories instead of petrol fuel, but I am also doing a little weight training on the move. Instead of packing my girls in the car, we all put on backpacks and walked to the new Trader Joe's in our neighborhood. It was a fun family adventure, and we stocked up on food to boot. Carrying a pack loaded with packaged goods and cereal is a great way to burn some calories. Add a couple of bags of groceries and you're toning your arms. Just pay attention to what you're putting in those grocery bags. Americans may be exercising more these days than a decade ago, but as a population we're still overweight. Meaning, we need to watch what we eat, too.
I know that since I live in an urban environment, walking to destinations is easy for me, but I encourage you to figure out how to burn extra calories doing your daily chores. If you cannot bike to work or walk to a local restaurant for dinner, add squats to your laundry folding routine or try triceps dips on your bumper while fueling up your car. Fitness opportunities lurk in the hum drum corners of our lives — you just have to look for them.