Evolv Elektra Climbing Shoe Review
A Beginning Rock Climbing Shoe: Evolv Elektra
Since I started climbing, I've been loyal to La Sportiva shoes, that is, until a climbing friend gifted me with a pair of Evolv Elektras ($89). After wearing them for about three months, I was so impressed with how the Elektras performed and fit that I gave my BFF — who is a beginning climber — a pair.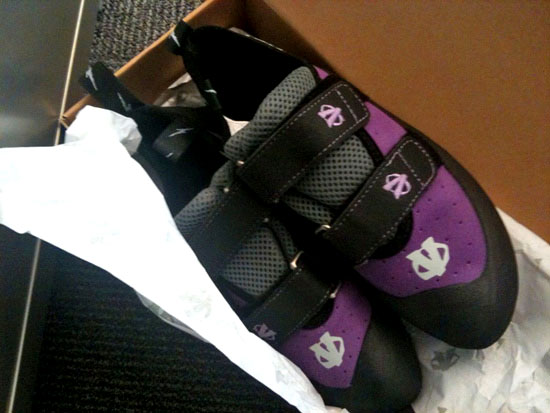 Just like in running, there are a huge variety of rock climbing shoes that are designed with the fit and experience of the wearer in mind. The Evolv Elektra falls more into the beginner category, and is a great shoe if you're just learning how to climb. It also works well as an indoor climbing shoe — regardless of your experience — and is currently what I wear when I climb at the gym.
To find out what my likes and dislikes are, read more.
When buying your first climbing shoe, Iook for a few things — performance, fit, and comfort. But if you're first starting out, don't spend a lot of money on a shoe that is more geared towards performance. It's doubtful that you'll be crack climbing a hard route in Yosemite in your first few months, so you want a shoe that is going to perform well in most scenarios, which the Elektra does. It's also pretty darn comfortable, which isn't always the case in a climbing shoe. Even during marathon sessions at the gym, my feet stayed comfortable. And because of the Velcro straps, I could easily take them on and off between climbs. As for fit, hey run a bit narrower than most climbing shoes (a great thing for gals), ensuring a nice, snug feel on the foot.  And they don't stretch like other climbing shoes so they fit right out of the box, and last a long time.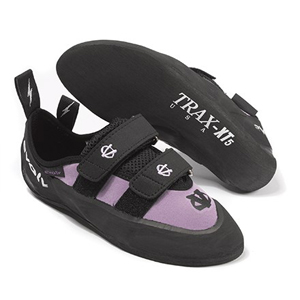 As for my dislikes, I can't really say there are any — it really just comes down to the type of climber you are. I'd pass on these shoes if you're an experienced outdoor trad climber looking for a shoe that's going to work well for heel hooks or crack climbs. But if you're just starting out, or need an all-around sporty shoe that works well for bouldering, sport climbing, or the gym, I'd say to buy these now.