Exclusive Interview With Venus Williams on Her Fitness Routine and Her Love of Football
Venus Williams Hates Elbow Planks but Loves Football
Having just turned 30, Venus Williams has been playing tennis professionally for half of her life. She is one busy athlete: gearing up for the US Open, teaching tennis clinics, selling her EleVen designs on Gilt, and promoting her new book Come to Win. Yet when I spoke with Venus recently, she seemed more like her sister's namesake, serene. Easy to laugh while maintaining a thoughtful focus, Venus and I chatted about fitness, fashion, and football.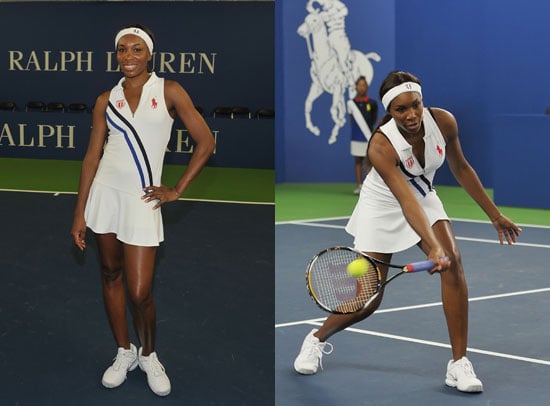 FitSugar: Describe a typical day of training for you.
Venus Williams: I get up in the morning and I go to the court for about two hours or three hours and then I go to the gym for another two hours or three hours. A lot of time I will stretch and do rehab for an hour. It's kind of a nine to five thing with a full day of working out. I do anything like ride the bike, the elliptical, swimming, or sprinting things like that. And I do arms, legs, and core.
FS: So what's your fave core exercise?
VW: (chuckles) I don't know if I have a favorite core exercise.
FS: Well then is there an exercise you love to hate.
VW: I don't like prone holds. Do you know what that is . . . it's an elbow plank. I don't like planks. I don't like slow and tedious exercise. Ones that you have to do on both sides. Those really get me down.
FS: How do you feel about running?
VW: Running is OK. I like swimming a lot. Swimming is my favorite cardiovascular activity. Lately I have been swimming in the ocean too. The water has been real calm in Florida this Summer and it's real flat. I call it lake Atlantic . . . get in and go for a swim.
Learn how Venus feels about food when you read more.
FS: What is your fave recovery meal and/or snack?
VW: I don't know. I am one of those people that eats to live and not lives to eat. So I don't know. It is hard to choose. Probably beans and rice and blackened chicken.
FS: Do you ever work out with Serena?
VW: We work out at the same time, but we might be doing something specific to what we need. I might need something different from her. But I might see her doing a nice exercise and I am like "I am going to copy that."
FS: Both Marathoner Kara Goucher and basketball legend Lisa Leslie told me that if they could be an elite athlete in another sport they would choose tennis. If you could be an elite athlete in another sport what would you choose?
VW: Football!
FS: Why?
VW: I don't know. (laughs) I just love it. You get out there and talk trash. Run hard, you make the play. It just seems awesome!
Stay tuned for more of my conversation with the fourth-ranked tennis star. We talk more about tennis, touch on fashion, and why Venus cleans her tennis togs with Tide plus Febreze Freshness Sport.