Exclusive Interview: Venus Williams Talks Tennis and Her Love of the Game
Venus Williams Holds Court and Talks Tennis
Venus Williams easily defeated her first opponent of this year's US Open. Having been sidelined over the last couple of months, many fans were checking out both her form and her face — for indications of pain. The New York Times reported that she winced at least once but only needed an hour and 14 minutes to defeat Roberta Vinci of Italy, 6-4, 6-1.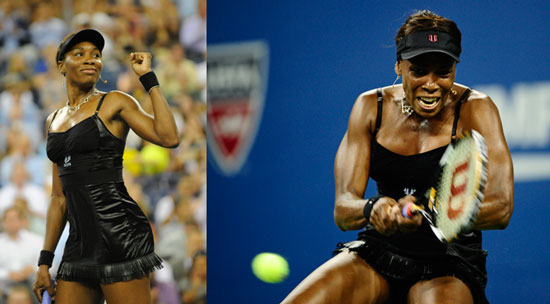 Last week the third seeded player of the grand slam event took time out of her busy schedule to chat with me about her love of the game.
FitSugar: Do you do different kinds of prep when gearing up for different surfaces: grass vs. clay/hard court?
Venus Williams: On grass I am looking for shorter points. On clay you have to get into the mentality of playing longer points, so you really have to be fit and have your legs strong. Really be ready to go the distance cardiovascularly. You have to push yourself even more for a clay court match.
FS: Do you prefer one surface more than the other?
VS: I love playing on all of them. I am an aggressive player and I do enjoy a quicker, more aggressive point. To be honest, I just like to play tennis.
To learn how Venus's relationship to the game has changed over the past 15 years, just
.
FS: You've been playing tennis professionally for half of your life, how has your relationship to the sport changed over time?
VS: If anything, I have learned more and I have become more grateful to have the opportunity to do what I do. Lots of people would love to do this and don't get the opportunity. I have this opportunity, and I continue to have it every day. I take it as motivation to play more, work harder, play better.
FS: Do you feel the sport has changed much too?
VS: Oh absolutely! It has changed a ton. That's the nature of sports though; it always gets to another level. All sports do though. So it challenges me to get to another level. Or hopefully be part of taking the sport to another level.
FS: Do you have a mantra when you play? What do you say to yourself to turn your game around when you feel you're not playing your best?
VS: Gosh. It's always changing. Whatever I need at that moment. I tell myself "Oh you're playing well" or "You're playing horribly." Or whatever I can say to myself to kind of make it happen. The worst thing that could happen is that you accept that it is a bad day and let it go. You have to fight against it. If anything it makes you better to know you can win on those days when you aren't your best.
FS: We just polled our readers asking if they air-dry their workout clothes made of technical fabrics. As an athlete and a fashionista, would you weigh in on the matter?
VS: I don't. Some of my specialty outfits yes, I had to have dry cleaned. But I throw the rest in the wash and they come out looking really good. I use Tide plus Febreze Freshness Sport on my clothes. The red clay is rough on clothes though.
We also discussed her fitness routine; learn why Venus hates elbow planks but loves football here. Tell me who you're rooting for in the US Open in the comments section below.