Are Exercise Classes at Gyms Good?
Are Exercise Classes at Gyms Underrated and Overlooked?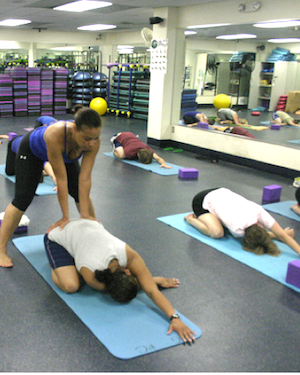 Many of us have basic gym memberships, but still pay a little extra to go to our favorite classes outside of the gym — does Saturday vinyasa at a studio up the street sound familiar?
I'll be the first to admit that it took awhile for me to wrap my head around the fact that my gym membership also includes access to cool classes like kickboxing, yoga, boot camp, and more. The gym I go to is pretty basic, and I associate it with workouts that consist of cardio and weights, that's it. I'm sure if I went to a fancy gym, I'd consider signing up for their classes, since higher quality often equals experienced instructors and a better experience . . . right?
Am I overreacting or should I give my gym's classes another shot? (I have attended a few but wasn't overly impressed.) I'm just not sure that I'll be able to budge on my yoga classes — I love my dimly-lit, incense-smelling, yoga studio! Where do you stand on this topic?
Source: Flickr User familymwr