Exercise Helps Ease Depression For Gwyneth Paltrow and Lindsay Lohan
Lindsay Lohan and Gwyneth Paltrow Rely on Healing Power of Exercise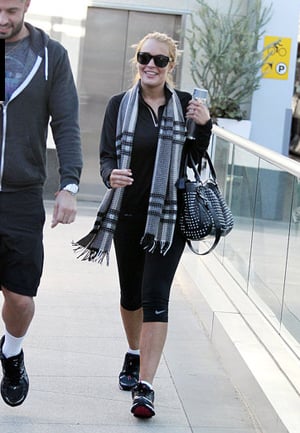 The benefit of exercise stretches way beyond the ability to fit into our "skinny jeans." It reduces stress, combats fatigue, and is good for the brain. It also helps with depression. Having dealt with PMDD for most of my adult life, exercise became my natural form of Prozac. It's good to remember this for times when you might be feeling down and out.
Out of rehab for less than a week, Lindsay Lohan has been turning to the gym, no doubt to release stress and keep her endorphin levels up. Working out can be a good distraction when you're trying to kick any sort of addiction, as the young actress is. Adding to the evidence that exercise has healing powers is an interview with Gwyneth Paltrow in the latest issue of Good Housekeeping. Gwyneth admits that exercise helped her overcome postpartum depression.
The next time you are upset, worried, angry, or sad, exercise. Take your stress out on the treadmill, which will manifest itself into the production of mood-enhancing endorphins. I personally find that yoga is an amazing mood lifter, and science agrees with me. For times that I am extremely sad, I turn to Mandy Ingber's pose for heartbreak. What exercises do you like to do when feeling down?