Exercise Lessons From Football
What You Can Learn From NFL Stars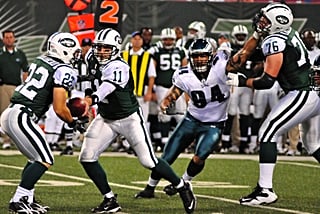 What's not to love about football season? Burgers on the grill, chips and dip, and all the crudité you can imagine. Oh, and whatever game is on TV. I may not be the hugest football fan, but I have to admire the fitness discipline of professional athletes. Even if you don't know your first-and-tens from your field goals, here are some fitness lessons you can learn from those modern-day gladiators.
Conditioning is important: Of course, those NFL'ers don't just roll out of bed and onto the field. Maintaining peak physical performance means developing a routine and sticking to it, but varying your workout enough so you keep seeing results.
Protect that brain: Sporting a helmet on your bike ride is a no-brainer, but don't forget to protect your greatest asset by eating the right kind of brain food, like brazil nuts, avocados, and blueberries.
Teamwork is key: Jocks value the importance of being on a team, so start your own by getting some workout buddies. They're good at motivating you, they can teach you some things, and unlike on a football field, the encouraging butt tap is optional.
The right gear is essential: You may not be sporting a number on your back, but your workout uniform should have you performing at your best. Find what works for you to keep you supported in all the right places, sweat-free, and safer from injuries.
Timing is everything: In football, those last few seconds on the clock can sometimes mean the difference between a Gatorade shower or a dejected march to the locker room. Get that winning feeling the same way by shaving seconds off your personal best or increasing your running time or goal miles.
Source: Flickr User Ed Yourdon