Exercise Tips From a Boot Camp Instructor
Exercises and Tips From a Boot Camp Instructor
Are you a hup, two kind of gal? Ladies who like to take their exercise to the extreme levels often enjoy a round of boot camp every now and then — or even every day. Then there are others who would like to participate in such a class but don't have the time or confidence for such endeavors. If you'd like to get out there and give it a test run before committing to such a dutiful ritual, you can set up your own version of boot camp to gear yourself up for the real deal.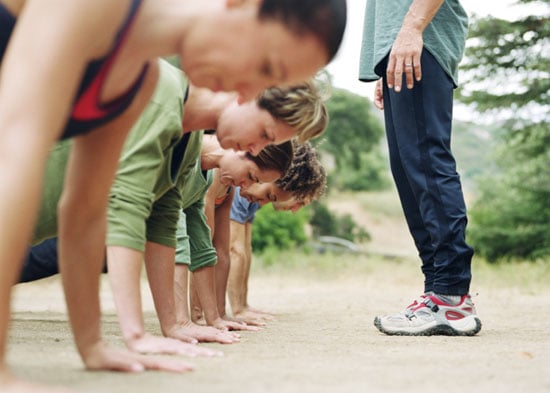 My brother-in-law, a half Ironman triathlete, marathon runner, athlete to boot, also participates in a boot camp where he leads the group in their sunrise ritual. Here are a few exercises and pointers he likes to employ among his "troops."
Exercises:
Start in a kneeling position on the ground and jump up to your feet. Then, jump in the air and bring your knees to your chest. Do this 10 times.
Time for sprints! Do one 100-meter sprint followed up by one 200-meter sprint and then one 400-meter sprint. This is easiest if done on a track as it's already measured out for you.
You'll need a partner for this exercise: One person does 50 full sit-ups (not crunches) while the other plants her hands on the feet and steadies herself in a plank position. Switch positions and repeat.
Do 50 push-ups. If you must, do them on your knees and try not to take rest breaks.
Finally, gear up by marching high knees for 30 seconds. Back it up with butt kicks on the way back.

Do this whole routine three times with water breaks in between.
To see his bits of advice, just read more.
Take one minute water breaks every 10 minutes or so.
Stretch lightly before and heavy after.
Try to keep the resting between exercises to a minimum, as you want to keep the heart rate up.
Walking lunges are a good way to rest but also a good exercise
When you've gone a few rounds with this trial run, you may discover you're one of those gluttons who takes pleasure in being ordered into squats and push-ups at the break of dawn.