Exercises For Hiking
Get Ready For Your Summer Hike With These Exercises
Memorial Day is approaching, and we've got warm weather on the brain, but it's not just about getting in shape for the beach. Hiking is a great cardio and muscle-building workout — and you can burn 180 calories in just 30 minutes. Hiking trails vary in difficulty, yet no matter where you go it's a common sight: once-enthusiastic hikers having to stop halfway through, too exhausted and out of shape to finish the trail.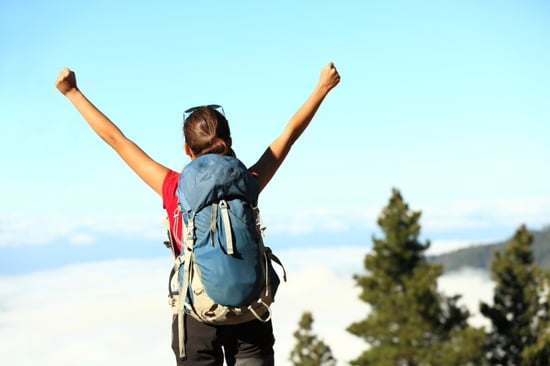 When you're on the trails, don't quit before you want to — if you're looking forward to a hike this season, start with these exercises.
Endurance: Spend some time working on your endurance before a long hike, and it'll all be worth it once you reach the hilltop. Increase the incline the next time your walk, jog, or run on the treadmill, and spend some time on a slower-paced, longer run during the week. Read more on how to increase your endurance here.
Core: Carrying a backpack while making your way up an incline requires engaged, strong abs; strengthen your core with these seven ab workouts.
Lower body: Strong legs make for impressive ascents, so go ahead, do some more squats (and then some). Here's a list of our favorite lower leg exercises to strengthen your glutes, hamstrings, and quads.