Exercises to Look Good in High Heels
3 Moves to Heighten Your Heels
When it's time to dress up, putting on a pair of heels is an instant game changer. Aside from your favorite kicks, they are the ultimate way to boost confidence and complete a look. But heels are also an accessory that can show off your hard-earned time in the gym by giving your calves center stage. If you're looking to sculpt and define your legs for a special event or just want to to strengthen your calves to rock a pair of heels, consider adding these three exercises to your next workout.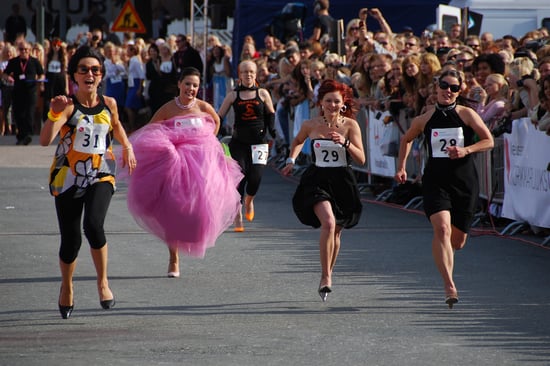 Raise that leg: Calf raises will shape and sculpt your lower legs in no time! Facing a wall for stability, begin with your feet flat against the floor; slowly raise both heels three inches off the ground, and then slowly lower yourself back down. You can do these alone or in between intervals during a circuit or running workout. Standing on a step with your heels partially extended out from over the stair will increase the challenge.
Step on the StairMaster: The StairMaster is a machine dreaded by many, but the total-body results, especially in the calves, are incredible! A little burn and a couple of minutes will go a long way. For an extra challenge, alternate minutes stepping on your toes versus a flat foot. Don't have a gym membership or StairMaster? Actual stairs or the local high school stadium work just fine!
Pack your jump rope: Pack this little tool in your gym bag and see results fast. If you want killer calves, incorporate a few jump-rope moves into the start and end of your usual workout. Alternating between two-feet jumps, one-foot jumps, and jogging in place will help your calves get high-heel ready. Take it to the next level by jumping higher and faster over time.
Head over heels for high heels? Don't forget to show your feet some love with these leg-lengthening exercises to prevent tightness and injury after a night spent in heels.
Source: Flickr User vestman