Exercises You Can Do in Public
4 Relatively Discreet Exercises to Do While You Wait
We spend a lot of time waiting in line, at the doctor's office, or for a dinner reservation, to name a few. But that doesn't mean time waiting should be time wasted. Strengthen your muscles with only the slightest disturbance to your neighbors. Here are four relatively discreet exercises you can do when standing around in public (with little or no embarrassment!).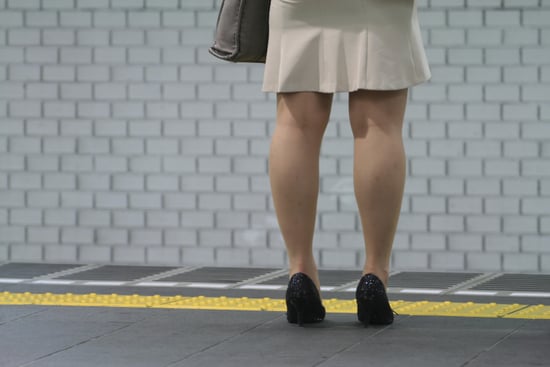 Lower-body barre moves: Barre exercises rely on small isometric movements to build muscle, so they don't require a lot of attention-getting moves. If you're near a wall, chair, or countertop, you can do the two standing Pure Barre exercises from this video: the standing pretzel and the semi-push-up. Both work your backside and while they look deceptively simple, you'll feel the burn in no time.
Calf raises: Strong calf muscles are important for flexibility as well as strong ankles, so you should make calf stretches part of your regular routine. The good news is you can do calf stretches anywhere, so remember this three-variation calf stretch routine the next time you're stuck in line.
Two more exercises you can do while waiting in public after the break.
Chest stretch: If you're near a wall or a doorway, try this posture-building stretch that loosens your chest muscles and trains your shoulder and back muscles to engage correctly. Learn how to do the chest stretch here.
Better balance: Here's another completely discreet and simple exercise: stand on one foot for a minute while you're waiting in line. To make it more difficult, close your eyes. These exercises will improve your balance and strengthen your ankles.