Exercising For 30 Minutes Is as Good as 60 Minutes
Fit Tip: Make It Doable
Bikini days may be going away, but whether it's a wedding or a back-to-school wardrobe, it feels like there's always a reason to get in shape. While revamping your lifestyle and making long-term healthy choices is always a good thing, remember to make goals that are doable every day.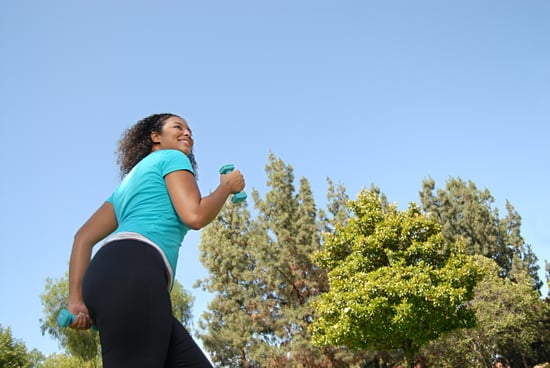 A good reminder of this practice is a recent study from Denmark, which followed three groups of 60 overweight men for three months: a sedentary group, a group who exercised for about 30 minutes a day, and a group who exercised for an hour a day. They found that those who only exercised for 30 minutes a day lost just as much weight as the ones who exercised for 60 minutes a day. The researchers speculate that the similarities could be because the men who exercised for 30 minutes felt like their routine was doable — and so were more likely to stick with it — and had energy to do more physical activity afterward. They also think that the men who exercised for an hour ate more to compensate for their longer workout.
The study reminds me of something Harley Pasternak, who trains everyone from Jennifer Hudson to Lady Gaga, said about the dangers of setting unattainable goals like last-minute overtraining or hours-long workout routines. "There's really nothing you can do three to four days before [an event] to look different," he said. "Whatever you do, ask can you do this for the rest of your life." This study is just one more reminder to make exercise goals manageable so you'll be more apt to stick with them.