Exercising Outdoors Helps Boost Mood and Self-Esteem, Study Shows
Finally, a Good Excuse to Skip the Gym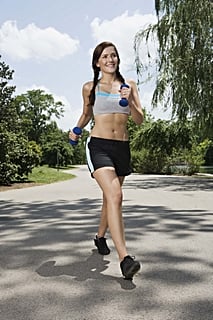 In honor of Spring I've been exercising outdoors as much as I can. What I love most about it is that it doesn't feel like a workout — I'm just excited to be outside in the sun. Now, a new study confirms what I already know to be true of my own life: outdoor activities have the power to boost our mood and self-esteem levels, even if done in small doses.
The findings, published in the Environmental Science & Technology Journal, looked at the results of 10 studies that followed 1,250 people. Participants who were active in "green" spaces were happier, less stressed, and saw a rise in their self-esteem. Green spaces are places in nature like a park where there is an abundance of natural elements like grass and trees. Add water to increase the happiness — more prominent effects were shown in individuals who participated in activities around an ocean, lake, or river. In total, the studies looked at activities like walking, gardening, cycling, fishing, boating, horse-riding, and farming in different outdoor locales like a park, garden, or nature trail.
What I found most interesting is that positive effects were measured even when outdoor activity was limited to a short amount of time. The next time I find myself stressed out, I'm definitely heading outside for a walk.