Expert Tips For Eating Breakfast For Energy
Make Breakfast Work For You: Expert Nutritionists on How to Eat For Energy
If you're normally skipping breakfast, here's your final wake-up call to stop. Eating breakfast not only aids in weight loss, but also gives you the energy you need to tackle your day. Skipping breakfast "is a killer," warns registered dietitian Erin Palinski, a spokesperson for ZICO Coconut Water. "Not only are you depriving your body of nutrition after not eating for an extended period of time, but you're also making it more likely that you'll overeat at lunch and/or dinner." If you're tired of the crash you get from not eating enough or eating too many refined carbs early in the morning, your breakfast habits need a revamp. We asked a few expert nutritionists and dietitians to weigh in on eating healthfully in the morning; read their tips (and delicious breakfast ideas!) below.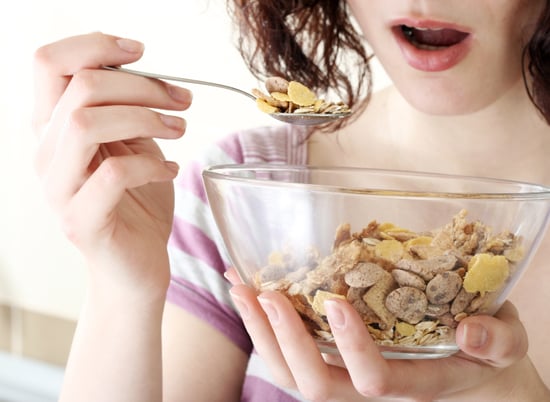 Eat soon: Even if you save your relaxing breakfasts for weekend mornings, you should still try to incorporate some breakfast time into your morning routine. "It's important to eat within an hour of waking," says nutritionist Melissa Costello, author of the Karma Chow Ultimate Cookbook. "Just a cup of coffee and a banana or energy bar [while] running out the door will sabotage our health efforts by creating sugar highs and lows, which will leave us craving sweets." Instead of waiting until the last minute, control cravings by eating shortly after waking, Melissa advises.
Eat light to heavy: Nutritionist and author of The Beauty Detox Solution, Kimberly Snyder's advice to her clients is simple: save the heavy foods for last. "This is a tremendously important part of maintaining energy throughout the day. If you eat heavy foods first, your body struggles to digest them and other foods get trapped behind. You end up wasting huge amounts of energy on digestion," Kimberly warns. "The fix is simple — eat foods light to heavy, both throughout the day and at each meal, which preps your body for optimal digestion."
Make it a carbs, protein, and fat mix: Worse than not eating breakfast is eating the wrongs types of foods. You need a meal that will keep your energy up and help you stay full throughout the morning, so go for foods that are a mix of complex carbs, proteins, and healthy fats, Melissa says. "This will help balance [your] blood sugar for the day." Need some breakfast help? Get a few nutritionist-approved breakfast ideas after the break.
Registered dietitian and author of S.A.S.S. Yourself Slim Cynthia Sass recommends whisking garlic and herbs with an egg, scrambling, and serving over quinoa with sliced avocado and side of fresh fruit.
Another of Cynthia's favorites: sliced apple or pear sautéed in coconut oil, added atop cooked oats seasoned with cinnamon, and topped with sliced almonds or chopped walnuts. Pair with a steamed cup of organic skim milk or a dairy-free option like almond or hemp milk.
Making oatmeal with coconut water is a trick that helps give your body extra electrolytes and hydration. Erin recommends making her peanut butter oatmeal recipe: mix a packet of oatmeal with four ounces of ZICO chocolate coconut water and a tablespoon of peanut butter (along with sweetener to taste) for a delicious and filling breakfast.
Kimberly Snyder recommends that her clients start their day with a Glowing Green Smoothie for a "huge boost of energy that you wouldn't get from a standard breakfast."